How far do we travel with Everyday Helper?  That's a great question!
Everyday Helper is located in Coralville, Iowa and we serve communities and clients within a 25 mile radius of Coralville. That includes towns such as North Liberty, Solon, Swisher, West Branch, Iowa City, Kalona, Hills, Riverside, Tiffin, Williamsburg, etc.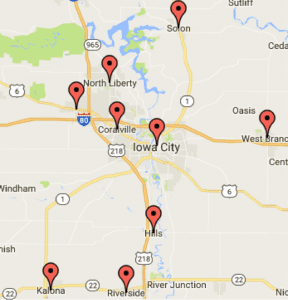 Do prices vary based on distance?  The answer to that question is yes.  The further we have to travel the more we have to slightly increase our standard prices. We do so to cover the mileage, the gas and vehicle wear, and the extra time it takes in our schedules to commute.
Our services are completely customizable! It's hard to give a set price until we know more about how we can help. We offer a free consultation and would love the opportunity to chat more about how we can help you! Call 319-400-1853 or visit our website and enter your question!