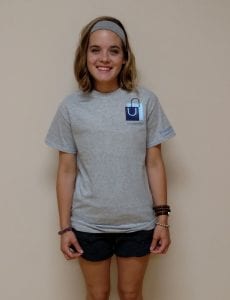 I've been babysitting since I was 12. I started off with just my sisters and my cousins, but then I took on other babysitting jobs around the town I lived in (Cresco, IA). When I went to college, I started working at the Child Development Center which lead to more babysitting jobs and even some nannying jobs. Throughout those experiences, I got to work with some amazing kids and interact with some awesome families. Now, as a licensed massage therapist, I have even started taking my massage business to peoples' homes.
The common thread between those activities is not just helping people, but working for people in their homes. Basically, for years now, I have been going to peoples' houses and helping them out with everyday childcare and cleaning tasks, so when I stumbled across Your Everyday Helper, it was the perfect fit.
Your Everyday Helper is a business with a number of services from dog walking to cleaning peoples' homes. What ties all these activities together, though, is Everyday Helpers come to help you with tasks you don't have time for, or jobs you simply don't want to do. But to do this, you trust us to come into your homes and leave them better than we found them.
Anytime you're invited into someone's home to do work for them, no matter how mundane the tasks may seem, you are making a bigger difference in someone's life than you think.
If you go into someone's house and clean for even two hours a week, you give those people at least that much more time to spend with their family or their kids or just on something else that truly makes them happy. They save the time they would cleaning but also time worrying about things getting done or the stress of a complicated to-do list.
One of my favorite aspects of Your Everyday Helper is the fact that this business is built on being flexible with clients' schedules. Being adaptable and flexible is very important when you are working with and for people. Routines change and things come up, so it's important for me to be flexible as a helper at Your Everyday Helper. A Client's plan can change in a moment, so it is important to be understanding when someone gets sick or something of that nature. Being understanding and working with people who are understanding is part of what makes this business great. We, as Everyday Helpers, are here to step in and take on more if something comes up unexpectedly or we can work around your schedule if you need to make some changes. Life can sometimes be messy, but we are here to make it a little bit less so.
Another great aspect of this business is it involves great interactions with clients. It can be hard for someone to invite a stranger into their home because it is probably the place where they feel the safest. If someone trusts you to be in their home around their kids or pets or possessions, it says a lot. Which means I try to have enjoyable interactions. Being able to interact positively with clients and their families and friends is an awesome experience and something that shouldn't be taken for granted.
I was very glad to come across Kelly and her business because it was a perfect fit for me and how I want to live my life. I get to help others and be a part of their lives. Your Everyday Helper is only a part-time job for me because I have other interests and passions that I am pursuing, but I'm happy that Your Everyday Helper has become a part of my everyday life!