Meet Lucca! Our first Everyday Helper Pet of the Month!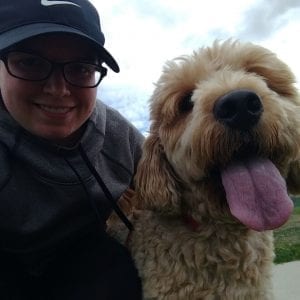 Lucca is a 3 year old Golden-doodle with the energy of a puppy! Lucca was the first dog walking client of Everyday Helper starting back in July 2015. Lucca lives with his mom who can't always keep up with Lucca's energy so we  help walk him 3 times or so each week. Since July 2015, we have gone on many, many walks…rain or shine….cold or hot. And once in awhile Lucca even gets to go for some car rides with us to get all cleaned up so that he can stay looking like the soft and cuddly teddy bear that he is!
Since Lucca was the first dog that I had the pleasure of meeting through this business, you could say that we have an extra special relationship! His mom and I also have a special relationship and we help her out around the house too with yard and house work.
What I love about Lucca is that no matter what, he is always eagerly waiting for me at the front door to give me one of his teddy bear hugs! He's always happy, always friendly, and always brings a smile to your face. No matter how my day is going, I know for sure that Lucca will brighten it up.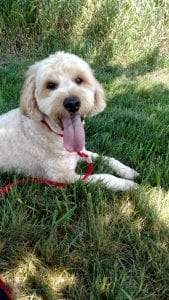 Lucca and I have our classic walk that we usually stick to. Our walk includes walking a beautiful trail around a pond where we got to watch mother nature change with every season. There's a tree where we often stop to sit under and rest in the shade on hot summer days. Our path is also near by an elementary school and our walks usually happen right around the time school is finishing for the day. That means that Lucca has made quite a few friends who know him by name and excitedly come running up to him on their way home from school.
I'll never forget the one time that we happened to be taking our walk a bit earlier in the day and as we walked by the fence of the school playground a group of 4th graders that knew Lucca from after school came running up to the fence excitedly upon seeing him. They of course called their teacher and other classmates over to meet Lucca. Their teacher ended up inviting us through the gate so that they could have a class impromptu "show and tell" aka play time with Lucca! Lucca sure made a lot of friends that day and had a blast!!
I have also cared for Lucca during some times when his mom's health hasn't been the best. I have cared for Lucca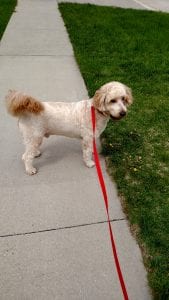 when there has been a lot going on in my own life. Lucca and I have been through a lot together and have become quite the pals. I've been told that Lucca knows our schedule quite well and that if for some reason I happen to not be able to make it on a regularly scheduled day that he will sit by the front door and whine and whine waiting for me.
Thanks to Lucca and his mom for sharing their lives with me and being along on the Everyday Helper journey with me, I'm so grateful for them both!
-Kelly