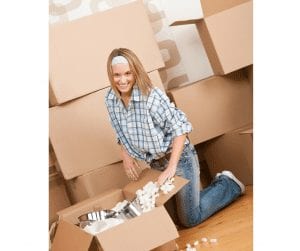 At Everyday Helper we offer a wide variety of customizable services. One of which includes helping our clients from start to finish with their moving process. We know that moving is also looked upon as a tedious task that you wish you could just wave a magical wand and have done for you. We have some good news for you though, we may not have a magical wand to wave for you, but we'll take care of your move!
Here are ways we can help:
Packing/Organizing/De-Cluttering
We will take care of picking up the packaging materials needed for the move and will go through and carefully pack your belongings in every room. We pack things safely, and keep items and rooms organized. As we go about this process we will also help you go through your current belongings so that you can move into your new place more organized and with less clutter from the start!
House Cleaning
Whether your current house is already sold or still on the market at the time of your move, it's important to keep it's appearance up! Our team of cleaners will come in and thoroughly clean your space from top to bottom so that you have one less thing to worry about during your move.
Setting up the move and movers
Not sure who to call for help or how to organize the move? We'll take care of the whole process for you! We have connections with local movers in the area and will take care of setting it all up for you.
Coordinating the move the day of
We're happy to assist the day of the move as your personal assistant and extra set of hands. We can help direct the movers with where items go, we can help make sure that things are running smoothly and we can even be there if you are unable to be.
Overseeing your property when it's on the market
Moving out of town? Or too busy to deal with two houses? We will take care of the overseeing of your property until it sells. That means that we will do check-ins however often that you'd like, we can keep up a light basic cleaning, and even manage your yard and curb appeal. We'll help you keep your property looking it's best so that it sells promptly!
Unpacking
Once you and all of your belongings are moved into your new space it can seem overwhelming. Where to start with the unpacking and how to get it all done while balancing everything else on your place. We will take care of the unpacking, organizing, setting up your rooms, and disposing of the moving materials. We'll even wash your kitchen dining ware, wash your bedding, or anything else you'd like us to help with when unpacking!
Cleaning your new space
As you begin to unpack in your new space you most likely will want to get settled with a nice clean home. We can come in and thoroughly clean your new space from top to bottom with the products that you prefer so that your new space truly begins feeling like your new home.
Organizing and Decorating your new space
Not sure how to organize and decorate your new space? Often times when you move you want to start fresh with a new look and layout of your home. In the midst of a move though, you're often exhausted by the time you finally get around to this part. We are happy to come talk through your new space, what you want, what you like, and help you come up with a plan that fits your budget, lifestyle, and more. Then of course we are happy to do the shopping for you and gather all of your new items and help you bring your vision to life!
So the next time you are considering moving, know that you don't have to dread it because we're here to help! We offer completely customizable help that is perfect for you. Feel free to give us a call at 319-400-1853 to talk more!