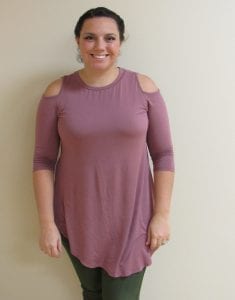 Meet Danny, one of Your Everyday Helpers! Danny joined our team in the fall of 2017 and brings a wide variety of experience and expertise to the team! Danny serves as our Community Relations Manager and as one of our Event Coordinators. Danny brings lots of creativity to the table and we love having her as part of our team to collaborate with!
Where are you from, how did you end up in the corridor area?  I am from the Quad Cities originally. I moved to Iowa City to go to the University of Iowa. I met my husband the second year I was here and he is originally from West Branch. I love this area and when it was time to purchase our first home West Branch was where we decided to buy. I love my small community and enjoy being in the corridor area while still having the small town feel.
If you could visit or live anywhere in the world, where would it be and why?
I have always wanted to visit Italy. The food, the wine, the culture all interest me. Maybe when my kids are grown up I will be able to take a 3 week trip and see it all!
Favorite quote?
"From pain comes strength"
I was in a car accident that broke part of my hip. I had 4 major surgeries and a very long legal battle trying to fix what was broken. It was the hardest time of my life not only physically, but also emotionally. I found that quote one night when the insomnia was at its peak. The quote really spoke to me, and helped me get through the tough times. Whenever I have pain I think of that quote and push through.
I love to craft and decorate!
Favorite weekend activity?
I love lounging and watching movies with the family. I love to go camping and boating when it's nice out. I also like to go out to eat.
What is your favorite song/group, or genre of music?
Eric Church is my favorite singer. His concerts are SO amazing! I listen to country music usually. Sometimes I will listen to a little pop. I also like the music from my youth- Backstreet boys and N'sync!
I have problems with boredom. I welcome each new season happily, then get bored with it and wait for the next one. Winter is my least favorite. If we didn't have winter I wouldnt be upset about it!
What is your favorite holiday and why?
Either 
4th of July
 or Thanksgiving. Food and good company!!
What do you enjoy being on the Everyday Helper team?
I enjoy the flexibility. I am enjoying doing something completely different then what I have done before. I am excited about helping Everyday Helper expand.