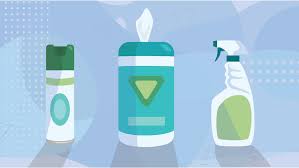 By now you're probably tired of hearing about COVID-19, aren't we all? The reality is though that it's here to stay for awhile which means that we have to do the best we can to keep ourselves and our families safe and healthy.
We reopened for business at the end of May and have been adjusting to our new norm, which means paying extra attention in homes that we're cleaning. In this blog we're going to give some of our cleaning tips and reminders for COVID-19.
Clean and Disinfect High-Touch Surfaces Daily
This includes surfaces such as:
Door knobs
light switches
Appliance handles
Tables
Kitchen and bathroom counters
Toilet handles
Electronics (be sure to check manufacture instructions)
Don't forget about your car too! Door handles, steering wheel, and gear shifter
How to Clean And disinfect
Wear disposable gloves and discard after each cleaning
If surfaces are dirty, they should be cleaned using soap and water or a detergent prior to disinfection
Ensure adequate ventilation in small spaces
Avoid mixing chemical products
Use products that will not only clean but will sanitize and disinfect as well
Use disposable towels and throw away after cleaning each area, or use reusable towels and change towels in between each area
Don't forget to take out the trash daily- especially trash cans that items such as tissues are thrown away into
Clothes, Linens, And Other laundry items
Change clothes when entering your home after being out in public
Avoid wearing dirty clothes more than once
Wash bed sheets weekly
Change out towels daily
If you're looking for help maintaining your homes cleanliness, we're happy to assist. We offer a customized house cleaning schedule and clean off of this list and more. We are also happy to assist with your laundry needs. Send us an email to info@youreverydayhelper.com or give us a call at 319-400-1853 and let's get started!