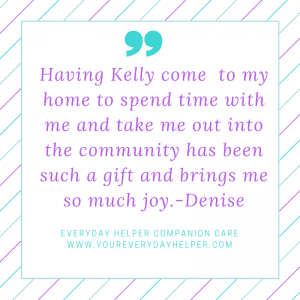 Companion care is easily one of my favorite services offered through Everyday Helper. As I've said before, it was really the service that started the whole business and is the service I am most passionate about. I love helping others and I love connecting with others and through companion care, I get to do both of those things daily! Here's just a few of the many reasons why I love companion care so much:
I am able to help seniors stay in their own homes longer.   By providing non-medical assistance with the everyday tasks that become harder when we age, I get to help my clients maintain their quality of life longer by making it more possible for them to remain in their own homes longer. To me, and to those I get to work with, that's a pretty big deal.
I'm able make their days a little less lonely.  Aging is not always a fun process and the older you get, the more people you have to say goodbye to. My clients begin to become lonely as they lose those they care about and as they find it harder to get out of their home to go out into the community to socialize. By coming into their homes we play board games, work on puzzles, talk, and sometimes I bring in activities with my clients. For my clients who are no longer able to drive but still desire to get out and about, I'm able to take them out into the community so they can still do the things they love and enjoy. All while giving them the comfort of knowing that someone's with them in case they forget what they're doing or begin to feel ill and need to go back home. Whether my client wants to go visit a friend's house, go for a drive, to the senior center or wherever else, I'm happy to assist.
I get to learn so much from my clients.  This is one of my favorite aspects of companion care. I'm a big believer that we all have a story to share and that we can all learn so much from one another. My companion care clients have lived through many decades and have many stories to share and many lessons to pass on. I love the conversations that I get to have with my clients and always learn so much from them.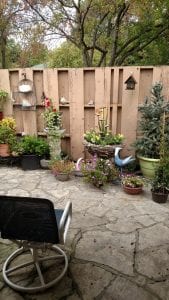 I also love getting to see what activities and hobbies my clients enjoy. I love it even more when I get to join in with them to experience firsthand how much joy these things bring them in their lives. I have clients who are wonderful gardeners, clients who are crafty and love to sew or build things, clients who love to cook and bake, and clients who can beat you no matter how hard you try to beat them in a game of cards. Many of my clients collect things and I love getting to see their collections and listen to them talk about the stories that go with those collections. Every day is a whole new learning experience for me and I love it!
I am so honored and privileged that I get to spend time with such wonderful seniors!   "Giving is the highest pleasure, receiving is the greatest treasure." How true that is to me.
For more information about Everyday Helper companion care services, visit our website.   You can check out this article KCRG TV-9 ran earlier this summer featuring one of my companion care families here!