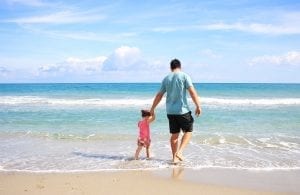 Most of us have probably gone about and set our New Year's Resolutions already, but those don't always do the best job of helping us figure out how we should spend our time. Here are five ways we suggest for your time in 2018.
Be with Loved Ones
Take a minute and think about how much time you spend with the people you love. No one ever seems to say "I've spent too much time with my loved ones!" Instead, many of us wish we had more time with them.
I don't want to make this post too sad, but the truth is, none of us know exactly how long our lives will be. They could end at any given moment, and that means we want to spend as much time as possible with the people we love.
When you look back on your life will you remember the time you spent at the office or the time you spent with your kids? Take a little extra time this year and spend it with the people that you love!
Give to Yourself
In a recent interview, fitness expert Jillian Michaels said she always sets aside 12 hours for herself in a week. She says, "We have 112 waking hours at least so 12 shouldn't be that hard to piece together."
It doesn't matter what you do in those hours, but it should be time you invest in yourself and activities you enjoy. For Michaels, she fits in a few workouts, a date night, lunch with friends or something of that nature.
Taking time to keep yourself healthy and happy is very important, but it can sometimes be something we overlook.
Give to Others
Most of us like to think of ourselves as kind people, and most of us probably are. We are willing to help a loved one or friend when they ask, but we may not always go out of our way to help someone.
In fact, we could all probably spend a little more time giving to other people. The great thing is, it doesn't have to be complicated. Maybe you could help out a friend with a project, or maybe you could get out in the community and volunteer.
If you decide to give to others, you will be happier and so will they. Plan a time in your calendar to do something extra to give to others this week.
Try New Things
Do you ever feel like you've lived the same day over? The truth is a lot of the things we do every day are things we have done a million times before. There are a lot of benefits to trying new things like overcoming fear, increasing creativity and just having fun.
Here are some new things you could try out this year: you could try out a new restaurant, cook something you never have, go to a local or state park, set up a scavenger hunt to get to know your city better, go on a picnic, or try out a new exercise or sport.
There are a lot of things in this world you haven't experienced yet, so take some time to try something new.
Learn Something New
When I say learn, you all might have bad flashbacks to taking tests in school, but learning is so much more than that. We all have a curiosity about different things in life, so follow that curiosity and learn something new in 2018.
You don't have to think of learning like taking a class because it could be something entirely different. You could learn how to take better pictures with your camera, you could learn some new recipes to impress your family, or you could learn a new dance move. Remember, the possibilities are endless, and you will see how learning can bring out your sense of curiosity about the world.
We hope you enjoyed our list of five things to spend time on in 2018! Do you feel like you don't have enough time to focus on these things in 2018? You can let us help you out. One of our helpers Erika said, "It feels good to be able to do things for people that really don't seem like a big deal but can make a huge difference in someone's life and how they spend their time."
We all enjoy making your life easier and allowing you to spend more time on the things you love. Reach out if there is something we can help you with!