Here we are, just a few days away from Christmas 2015! Where did the year go?! I am having a hard time believing that another year is almost over! This week's blog is about a thought that came to mind earlier in the week and has now spiraled into a whole blog. So here it goes!
We've all heard the phrase "It's better to give than receive." But as I was thinking about this the other day it occurred to me, why not both? Why not give and receive?
 Let me explain what I mean by this.
This holiday season Everyday Helper has been giving back to the community and spreading some holiday joy. Everyday Helper has been doing our own spin on random acts of kindness call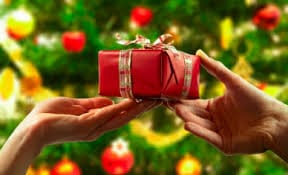 ed "31 Days of Everyday Helping." We joined in with collecting donations for the seniors of the Crestview Care Center in West Branch for Camp Davis. And we also joined in a drive to collect gloves for children in need. Through all of this I feel like in the process of giving, I have received.
Giving=Receiving.
Think about that.
No matter where we are at in life, we are all always in the position to give. It doesn't always have to involve money. Share a smile. Give a hug. Hold the door open for the person behind you. There are plenty of ways for us all to give to one another.
What I have learned from this month of giving back is that in giving, we receive.  Often we receive more than we give. It is an incredible feeling.
So as you go about these busy final few days before Christmas, don't forget that giving=receiving. Spread some joy this holiday season!
Merry Christmas
Kelly