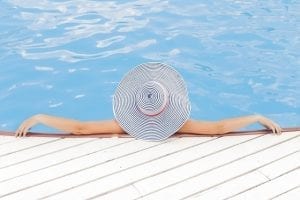 How much time do you spend cleaning your home every week? Does it seem endless? If you have an average size home around that is somewhere around 3 bedrooms and 2.5 bathrooms, it probably takes us between 2 and 4 hours to clean.
What could you do in that 2-4 hours?
Have Lunch with a Friend – We all could use more time spent with friends. Instead of cleaning your home, go have a fun lunch with a friend.
Go to the Pool – Going for a swim is a great way to cool off on a hot summer afternoon.
Read a Book – We all have a book that has been on our list to read for a while, but we always have better things to do. Take the day off from cleaning and read a book instead.
Enjoy the Summer Sun – We are often so busy with our lives that we don't take time to enjoy the outdoors. Go for a walk or hike or just relax and enjoy the summer sun.
Go to a Movie – Whether you are waiting for the next superhero movie or you are dying to see the new comedy with Melissa McCarthy, going to the movies can be a great relaxing way to spend an afternoon.
There are so many great things you could be doing instead of cleaning. Let Everyday Helper clean your home while you do something fun!
If you are someone who likes to clean your home, keep doing it. However, if you are someone who puts off cleaning and wishes they could be doing something else instead, let Everyday Helper clean your home. We can clean your home and you can go do something else.
At Everyday Helper, we offer a free cleaning consultation where you can walk us through your home and tell us what you are looking for. We offer a cleaning checklist as a basis for our cleanings, but if you have particular areas that need a little extra attention, just let us know and we will be happy to customize our cleaning to your needs.
This summer, there are a lot of things you could be doing instead of cleaning your home. Maybe you should do them, and let us do the cleaning. Reach out to us at 319-400-1853 or contact us here if you would like to learn more about our cleaning services. We are happy to help you take back your time while we do some cleaning for you.