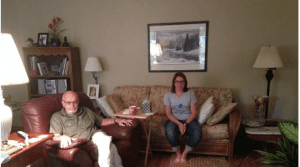 One of my favorite services that we offer with Everyday Helper is senior companion care. As I've shared before, it is really the service that started this whole business. I absolutely love helping others and getting to learn from and connect with others. While I knew this was something that I wanted to be able to do through the business, I never realized just how much it would teach me. So today I thought I'd share a few things that companion care has taught me.
We all have a story to share
I've met a lot of incredible people through the business since starting it in July of 2015. I've spent a lot of time with many clients who are all at different stages in their lives. Some of my most treasured memories are those of simply sitting with a client, and exchanging stories over a cup of coffee. So many times I've had the privileged to join my clients for some conversation and I can tell you that it always brightens my day. I believe we all have a story to share. We've all faced struggles in our lives and we've all had accomplishments and things worth celebrating. We've all experienced different things, and learned different lessons. We all have a story to share with the world.
We can all learn from one another
I think that no matter our age, gender, background, etc etc….we can all learn from one another. No two of us have ever walked the same journey. I love getting to talk with our clients and hear about their past, their lessons learned, their experiences, and their life lessons for a young one like me. Whether my clients have intended to or not, they have all taught me so, so much. Many life lessons that you just simply can't learn unless you take the time to connect with others. Lessons you don't learn in school, you don't learn from reading a book, and you don't learn from watching tv.
Seniors just want to have fun and enjoy life too
I have to tell you that some of the best days and best memories I've had yet with this journey have been the ones spent with our senior clients! Seniors are so much fun! I think that in our fast paced lives that we often forget to spend a little extra time with those we love who are aging. Seniors crave companionship, friendship, adventure, fun, and everything else that you and I do too. They still want to enjoy life, even if it's at a slower pace! From board games, to coffee shop conversations, to errand running, to transporting to appointments….I have many wonderful memories with clients. I've shared lots of laughs, smiles, and fun with some of best people ever!
I have the best job ever
I always say that I feel so fortunate to have this life. I feel so lucky each and every day to wake up and spend my days doing work that I love….work that I'm passionate about. Everyday Helper is so much more than a business to me. It's my life. I love helping others, I love connecting with others, and I love making a difference. And getting to do all of that each and every day really doesn't even feel like a job to me. But if you call it that, well then I'll be the first to tell you that I absolutely have the best job ever! My clients have changed my life for the better an truly thankful for each and every one of them for being a part of this journey and a part of my life. No matter what I'm going through in my own life, my clients day after day inspire me, motivate me, remind me of what really matters, and make me happy. Yes, I have the best job ever.