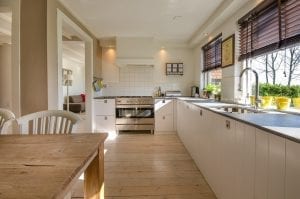 Organizing your home can seem like a daunting task, but you know you want to do it because it will make your day-to-day life easier. We suggest you pick one or two spaces to start your organizing process. Then, once you have gained momentum, you can move on to the rest of your house.
Since your kitchen is a space you probably use every day, we are going to help you tackle that kitchen cupboard clutter first. Check out our tips for organizing your kitchen cupboards below.
Have Designated Areas for Like Items – You don't want to have one kitchen cupboard that has food, pots and pans, and wine glasses—that just doesn't make sense. When you are thinking about kitchen cupboard organization, you want to think about grouping like items together. You will want one cupboard designated for plates and bowls, another for pots and pans, and another for Tupperware type containers. Take a look at the types of things you need to organize whether it is food, dishes, cleaning supplies, etc. and make groups. Then, assign each group to its own cupboard or section of a cupboard.
Make It User-Friendly – Before you start the actual organizing process, you will want to think about the layout of your kitchen. You want your kitchen to be as user-friendly as possible. For example, put your pots and pans somewhere near the stove because that is where you'll be using them. Put cutting boards near where you will be doing your chopping. It may sound simple, but taking a few moments to think about your space will help you create a space that is more organized and user-friendly.
Add Organizers or Bins for Better Storage – Sometimes the setup of your cupboards is less than ideal. The shelves may be too tall or the spaces too tight. Whatever the problem, you should be able to find a way to help yourself be more organized. That could be something as simple as adding bins, kitchen organizers or extra shelving to your kitchen. Assess your needs and decide if you could benefit from a bin to hold your canned goods or a popup shelf to add more stacking space for your dishes.
Get Rid of Unused Kitchen Items or Appliances – We have all bought a kitchen appliance or gadget that seemed like it would save us so much time. . . and then it sat their collecting dust because we never used it. When you are organizing your kitchen, don't hesitate to get rid of unused or under-used items. I know we always tell ourselves we will use it one day, but that isn't always the case. You can donate or sell your unused items and have more space in your kitchen for the things that you need.
If you are on a mission to make your kitchen space cleaner and more organized, check out these tips. We hope they help you improve your space!
Everyday Helper is here to make your life easier. We are a business that helps you with the everyday things on your to-do list, so you can enjoy more of your time. We provide services like house cleaning, decluttering, errand running, dog walking, pet sitting, and so much more. Reach out to us if you need a little extra help in your everyday life!