Cleaning your kitchen is something that is important to keep on top of. Learn some of our kitchen cleaning tips as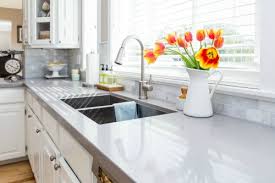 well as how to clean your garbage disposal below.
If you have a garbage disposal, you probably use it daily. It is a quick and easy way to get rid of food scraps and unwanted leftovers. Since your garbage disposal grinds up the food and washes it down the drain, it may seem like it cleans itself; however, a garbage disposal can get dirty and smelly, so you will want to clean it regularly. How do you clean your garbage disposal? Learn more below.
How to Clean Your Garbage Disposal
Cleaning your garbage disposal can be quick and easy. All you will need is baking soda, vinegar, and hot water. To clean your garbage disposal, simply pour some baking soda down the disposal and pour some vinegar down right after that. Then, you can allow this mixture to fizz for a couple of minutes. Finally, flush your garbage disposal with hot water.
The method above should get your garbage disposal nice and clean, but if you want to add an extra step to make it smell fresh there is one more thing you can do. You can get some citrus peels and put them through your garbage disposal with cold water. This doesn't do a lot to clean your disposal, but it does give it a fresh scent after you have finished cleaning it.
The Importance of Cleaning Your Kitchen
Your kitchen is something that is very important to keep clean and sanitized. The kitchen is where you store and prepare the food you and your family eat. A kitchen full of germs and bacteria can cause you or your family members to get sick. However, if you do some basic cleaning, you can keep your kitchen in great shape. Check out our kitchen cleaning tips below.
Clean Your Refrigerator Regularly – Your fridge is where you store your food. It is important to keep this area clean. Be sure to wipe off and sanitize the shelves of your refrigerator regularly.
Clean and Sanitize Kitchen Counters Daily – It isn't too hard to wipe off your kitchen counters everyday, but it is an important task. You will want to be sure your counters are clean because that is where you prepare your food.
Clean Your Stovetop Regularly – Ridding your stovetop of grease and food spills is also something you will want to do regularly.
Clean and Organize Your Pantry – Like your refrigerator, your pantry stores food you will consume. Cleaning and organizing your pantry regularly is a good habit to get into.
Clean Your Sink – Cleaning and sanitizing your kitchen sink is also important because germs and bacteria can collect here.
Clean Inside and Outside of Cupboards – It is important to wipe out the inside of your cupboards, but you will also want to remember to wipe off the front of your cupboards to get rid of fingerprints and germs.
These are just a few of our kitchen cleaning tips. We hope you enjoyed them! If you need some extra cleaning help this fall, reach out to us at Everyday Helper. We can provide you with weekly cleaning, monthly cleaning, or even a one-time deep clean of your home. At Everyday Helper we strive to make your life easier with services like house cleaning.