Have you ever had a moment when you ran out of a cleaner just as you were getting started cleaning the house? Or, maybe, you're the type of person that wants to make sure there are no harsh chemicals in your cleaning supplies?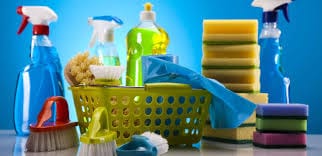 Either way, making your own cleaning supplies could be a great solution for you. There are lots of advantages to making your own cleaning supplies. Often you can save money by using common household products to make these cleaners. You can also be sure there are no harsh chemicals in your cleaning supplies if you make your own.
Are you ready to try out making your own cleaning supplies? Here are a few homemade cleaning supplies that are made from items you probably already keep around the house. Check out the list below:
All-Purpose Cleaner
If you are looking for a homemade all-purpose cleaner, it doesn't get much simpler than this. All you have to do is add a bit of baking soda to some warm water. This will help you clean sinks, counters and even appliances. It is really easy to make and to use. Also, you probably already have some baking soda in your pantry!
Bathroom Cleaner
Next, we have a great homemade bathroom cleaner option. You could use an all-purpose cleaner here, but this is just a little more specialized for cleaning your tub and tile.
This cleaner will start off like the last one with baking soda and warm water. Next, you will add some liquid soap you have around the house. Finally, add just a few drops of white vinegar. Mix it all up, and you have a great bathroom cleaner. We got this idea from Spend with Pennies, so check out their recipe here.
Mirror or Glass Cleaner
Next, we need to come up with a homemade glass cleaner. The last time I cleaned off the bathroom mirror, I simply used one part water and one part white vinegar to get the job done. This was a simple solution to the fact that I couldn't find the bottle of glass cleaner anywhere.
Try this out and see what you think. It could be a lot cheaper than buying a name brand glass cleaner.
Dusting Spray
The Live Simply blog has a great two-ingredient dusting spray that we believe is worth trying out. They suggest combining castile soap and water because "This soap is gentle on the ski
n and effective in the fight against dirt, grease, dust, and unwanted germs." We say it is definitely worth a try!
Above we listed four different homemade cleaning products. These four cleaning products should be able to help you clean most of your home, and they are probably made of ingredients you already have laying around your house.
Have you ever thought about making your own cleaning products? It might be something to consider. Especially with these easy ideas above that include just a few ingredients. Feel free to try out these homemade cleaning supplies and let us know what you think!
Also, if you're interested in having us clean your home, you can get a free cleaning consultation. Just call us at 319-400-1853, and we will be happy to set up your free consultation.