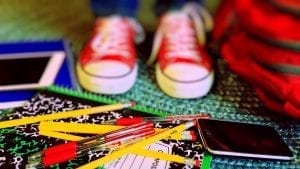 It is getting to be that time when your kids are close to going back to school. That means your to-do list is growing endlessly. There is so much to do and so little time to do it. The good news is we are here to help you with some tips for getting your house cleaned and organized for back to school. Check out our tips below.
Organize and Reuse Old School Supplies – Okay, let's face it, you know you have old school supplies tucked into different nooks and crannies in your home. This year, before you shop for school supplies, try to find what you already have and help your kids get it organized for the coming year. By organizing and reusing old school supplies, you will decrease the clutter in your house, and save yourself a little bit of money.
Create a Space for Your Kids to Do Homework – No one really likes homework, but it is an important way for your kids to engage in their education and learn responsibility. Having a specific space at home for them to do their homework will help them create good habits about getting their work done every day. This space for your kids doesn't have to be anything fancy, but if they have a desk or table where they can do homework, it will help them get their stuff done. It will also help keep your kid's school stuff in one area of the house.
Have a Place for Your Kids to Put School Stuff Everyday – If you are a mom, you have definitely heard the question "Mom, where is my….?" While you aren't the one who misplaced their stuff in the first place, you are the mom, so you are expected to know exactly where it is. To help keep your kids more organized, try to come up with a specific shelf or closet where your kids can put their backpacks, school shoes, school supplies, and anything else they may need. If your kids know there is a spot where they are supposed to put their stuff, it may be easier to find these things on a hectic morning when they are running late for school.
It can be stressful getting everything organized for getting your kids back to school, but it doesn't have to be. If you need any extra help as your kids are getting ready to go back to school, reach out to us at Everyday Helper. We can provide you with help on some of your day-to-day activities like housecleaning, errand running, pet sitting, and so much more. Let us know if you could use some help this fall, and best of luck with getting your kids back to school!