It is that time of year again—we are gearing up to have a great Thanksgiving and we hope you are too!
You probably learned in school that Thanksgiving started when the Plymouth colonists and the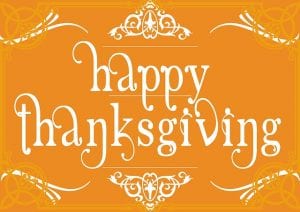 Wampanoag Indians shared a harvest feast in 1621. This is one of the first Thanksgivings that occurred, but it wasn't until 1863 that President Abraham Lincoln made Thanksgiving a national holiday to be celebrated every November.
For many of us, Thanksgiving is a time to spend with friends and family eating good food and celebrating all the good things in life. At Everyday Helper, we want to celebrate Thanksgiving by telling you all about what we are thankful for this year.
What We Are Thankful For
Everyday Helper is made up of some great people. Kelly started Everyday Helper in July of 2015, and Judy and Erika were the first people she hired on to help her in the summer of 2017. Since then, the Everyday Helper team has grown to 12. Learn more about our team and what we are thankful for this holiday season.
This Thanksgiving, Erika is thankful for her growing relationships with family and friends as well as her job and her massage clients. She is also thankful for the two kittens she has had for the past year.
Contessa tells us, "I am thankful for all my friends and family. I have such a great life in Iowa City, and I am blessed with some pretty amazing people and opportunities (including Kelly and Everyday Helper)!"
Helper Megan is thankful for her supportive family, friends, and church.
Judy is thankful to have her health and her family this Thanksgiving season. Thanksgiving is her favorite holiday because it is a wonderful time to gather with family and reflect on all of life's blessings.
Helper Jenny is thankful for the love and support of her friends and family, and all of the opportunities she has had throughout her life.
This year, Kelly is thankful for Everyday Helper and her awesome helpers as well as her health, her family, and her friends.
All of the helpers at Everyday Helper have a lot to be Thankful for this year, but we are also very thankful for you, our clients. We are thankful to be working jobs that allow us to give back and help others. We hope you have an amazing Thanksgiving from all of us at Everyday Helper, and we hope you have a lot to be thankful for just like we do! Happy Thanksgiving!