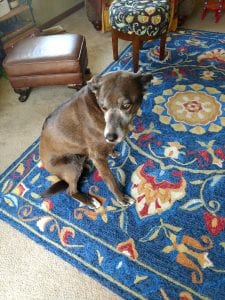 July's pet of the month is miss Hannah!
Hannah is one of our newer clients who moved to the area about a month ago. She is a 13 year old who although moves a bit slower now days, still has lots of love and kisses to give.
Hannah's family rescued her about 8 years ago and saved her life. She had been abandoned, was starving and sick, and had been attacked by other dogs regularly. To this day Hannah still is timid when she sees other dogs and likes to stay away.
Hannah is the sweetest dog you will ever meet. She never barks, never growls and is always ready to cuddle, walk, play fetch, and give lots of kisses.
I get to spend time with Hannah every week day and we get to go explore the park that is just a block away from her home. I'm not sure if she enjoys her walks and time with me more, or the bone filled with peanut butter that she gets when we return home!!