Oliver is one laid back pug who is enjoying his middle aged years of life! He loves laying around and taking endless amounts of naps all day, every day. He enjoys his naps so much so that you often have to shake him to get him to wake up! And even once he is awake, he likes to move at his own slow pace!!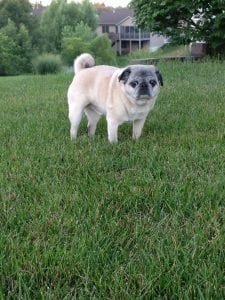 If there's one thing that Oliver loves more than his naps, it would be his treats! At the sound of the treat container opening, Oliver's eyes become huge as he gets so excited that it's time for a treat! He also is good at using that adorable look of his to get you to give him an extra treat!
Oliver has been a part of the Everyday Helper family since our first year in business. Oliver and his sister, Bella, are regular clients of ours as their family is pretty busy and often away traveling for work and fun! We go over and feed and walk Oliver and his sister when his family is away for the day, and we hangout with them for several days in a row when the family is away on vacation.
When Oliver's family is away for more than a few days, Oliver gets to help Everyday Helper water the flowers, walk to the mailbox, and even put the trash and recycling cans out on the street for trash day! Oliver doesn't mind helping with some extra chores because he is always rewarded with a treat after!