At the end of every year, I like to spend some time in reflection on the year for Everyday Helper. I always write a year end blog so that years from now I can look back and see where we were as a business. 2020 was definitely a year to remember….
I started this year off with big, big plans for Everyday Helper. As we all know though, life had other plans for us all this year. Thanks to COVID-19 a lot of those plans weren't able to happen, or had to be "put on the back burner" for a later time. Despite the year not going as planned, I still look back on 2020 and see so much good that happened for Everyday Helper, and myself.
January we announced our partnership with the non-profit, Cleaning for a Reason. Through this non-profit partnership we offered our time and service by providing free house cleaning to cancer patients in the area undergoing treatment. We gave away over 30 free cleanings this year! This has been such a meaningful endeavor not just for myself, but for the whole team. We have all really enjoyed giving back and getting to connect with people in our community going through some tough battles.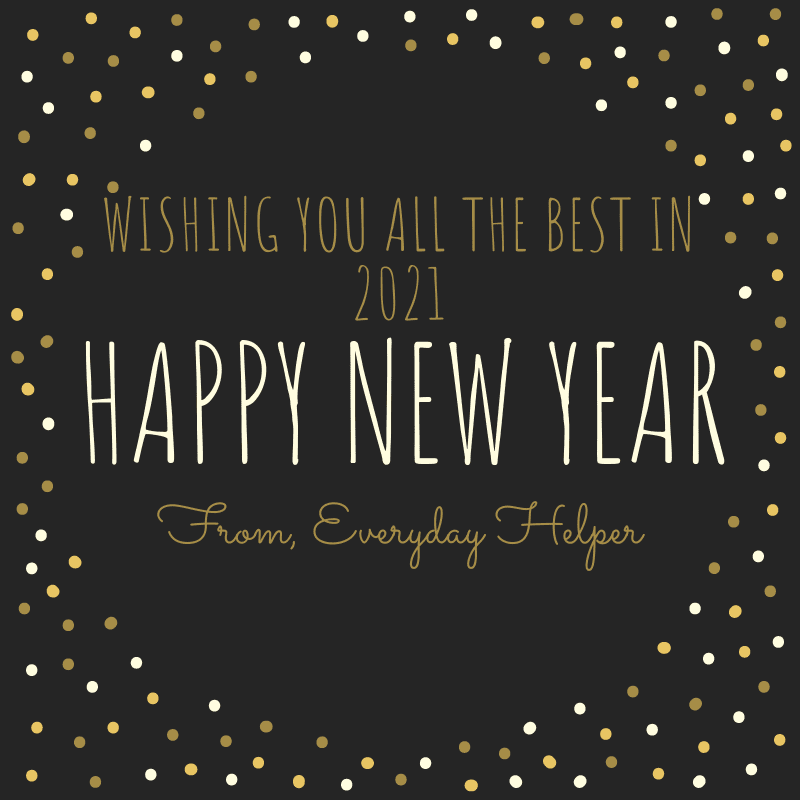 When COVID-19 hit full force here in Iowa, like many businesses we had to temporarily close our doors. It was a very tough but very important decision that I had to make. We were closed from mid March- May. Nothing had prepared for me for this as never did I imagine such a thing would happen to us as a business. I'd be lying if I said I didn't have many sleepless nights, high stress and anxiety, and fears that we wouldn't be able to bounce back as a business.
During our closure we received such a heartwarming amount of support. All of the notes and financial donations from our clients meant so much to me and the whole team. The words of encouragement definitely kept me going on the hard days. While I didn't enjoy having to close down for a few months, it turns out that there was good to be found in that closure. For one, I finally was able to take a much needed break to rest, reflect, and recharge. After a few weeks of rest, I used the time to my full advantage by revamping so many of our behind the scenes systems in place. I did a lot of reflection and realized that over the past few years we had become so busy that at times we had dropped the ball with certain things. After this realization I spent the rest of our closure working to get everything back in order and ready to hit the ground running when we reopened with our new procedures in place.
July we celebrated our 5th anniversary! I still have a hard time believing that we have been on this journey for so long. It just doesn't seem possible! I guess when you truly love what you get to do every day, time flies. I am so, SO thankful for all who helped us reach this milestone. All of our past clients and current clients mean the world to me. The support we receive by those who read our blogs, follow us on social media, and subscribe to our newsletter blows me away. It always makes me smile to see others spreading the word about us in the community as well. Each and every day I get to work with the most amazing team ever and that brings me so much joy as well. I have so much to be grateful for with Everyday Helper, and every day I give my thanks for all of it.
December we wrapped the year up with our 5th annual "31 Days of Random Acts of Kindness". Though things looked different this year, it's always so fun to give back and spread a little joy throughout the holiday season. After a tough year, some kindness and joy was just what everyone needed.
Although 2020 didn't go as planned at all, there is still a lot to be thankful for. Looking ahead to 2021 I'm so excited for what's on the horizon. My support team and I have been very busy these past few months working on things that we'll be announcing over the next few months. New ways to schedule with us, a VIP program, and so much more. Oh, and stay tuned- January I'll be announcing a non-profit that I have been working so hard on creating after the loss of a client very near and dear to my heart. I can't wait to see how we are able to serve our community more through this new project.
As 2020 comes to a close, I hope you're able to spend some time in reflection on the past year. I hope that you're able to smile when you remember the good moments that came from this challenging year. We all always have so much to be thankful for.
See you in 2021!
Kelly