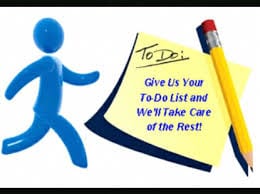 If you've ever found yourself in a pinch and have turned to an online search to find help with a delivery, you have likely found multiple options here in the corridor area.
There are many businesses that offer delivery on the products they sell. For instance, if you want your groceries delivered you can call Hy-Vee. If you want want food ordered you can call one of the many local food delivery services such as Order up. And if you want flowers delivered you can count on any local flower shop to do that for you.
But what if you want something delivered from a place that doesn't offer delivery? Or what if you are looking to surprise someone and need multiple items from different places delivered? That's where we come in to help you here at Everyday Helper!
Everyday Helper offers completely customizable errand running services. We have an hourly rate that covers our fee to drive to the location to pick up the items and then to of course deliver them. By having a set hourly fee, that means that our delivery options are endless. We can go to the store and pick up items that you'd like to have delivered to a friend at work for a birthday surprise. We can go to the store and pick up soup and medicine when you're feeling extremely under the weather. We can take care of all of your personal and household shopping and errand running needs if you are either too busy or have limited mobility.
We love providing errand running services as it's always so much fun to help others and deliver a lot of smiles and surprises!
Being here in a college town we also have the pleasure of assisting many out of state parents who want to help out their child in college. We make many deliveries to the downtown area to college students who don't have the time, money, or transportation to get to the stores themselves for the items they need. We also love it when we're called upon to help assist in some birthday surprise deliveries!
And of course in the cold and snowy winter months here it can make it more challenging for our senior clients to safely get out and about. During the winter our errand running services make it possible for our clients to stay in where they are warm and safe and leave all of their errand running to us! Whether it's trips to the post office, the drugstore, the grocery store, or the department store- we're happy to help!
If you'd like to talk more about how we could help assist you with your errands, please call us at 319-400-1853 or send an email to Kelly@youreverydayhelper.com