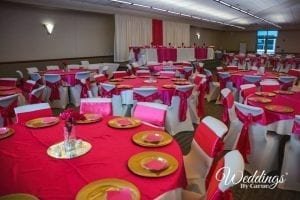 Planning a wedding this year? Not sure how to get it all coordinated while sticking to your budget? That's where we come in to help at Everyday Helper. We'll take care of getting everything ready so that you can enjoy your big day without all of the worry and stress that can come with it.
One of the most common ways that assist our clients who are planning a wedding is with our event set up services. We offer packages that are customizable for your wants, your wedding size, and your budget.
What are some of the ways that we can help with setting up your wedding?
We can help with the coordination
Kelly, Jenny, and Danny are all event coordinators who are happy to help with the organization of your event. We will sit down with you to gather all of the details and then we'll get busy getting everything lined up. We can take care of organizing the services you need such as the caterer, the florist, the rental of equipment, and the purchasing of decorations. Not only will we help coordinate lining up all of the needed services, we will help coordinate the time of deliveries and the set up the day before and on the day of the event.
We can help with the shopping and purchasing of the decorations
Once you have your wedding colors picked out and begin to come up with the look that you want your big day to have, it's time to get busy shopping for the items needed. Not sure where to start looking or how to find items that fit your budget and the look you are wanting? That's where we can come in. We have many local connections and experience in shopping for the items needed for your big day. We'll do the shopping around, we'll contact the shops, we'll gather the pricing to present to you, and we'll get it all lined up with your approval!
We can help organize the layout and set up on the event
We can sit down with you to help figure out a practical layout for your wedding. Once we know the location of your reception, the number of guests attending, and the tables, chairs and other furniture you will be using we can help you draw up a plan for the perfect layout. Where will food be located? Where is the cake table? Who sits where? How big of a dance floor do you have room for? We'll sit down with you and help you organize and plan out all of those details so that you can relax knowing that it will all work out!
We can help with the decorating
Have you been searching Pinterest and finding all sorts of cute ideas that you want to incorporate on your wedding day? Weddings are a big deal, and this is your one chance to pull off the wedding that you have been dreaming of your whole life! Show us the ideas you want to incorporate into your wedding and we can help you with the decorating to bring your vision to life. Letting us come in and help with the set up is also a great way to save a little stress before your wedding. You have enough to worry about besides getting all of the decorations put up ahead of time\
We can help with the errand running
Have you ever found yourself in a time crunch shortly before an event or party that you are hosting when you suddenly realize that you don't have enough ice….or a light bulb burned out…..or the napkins are missing. No matter how well planned you think you are for your big day, things are bound to happen and that may mean that a last minute errand needs ran. Everyday Helper runs errands daily and we'll be there for you on your big day in case you need a last minute errand ran!
These are just some of the many ways that we can help you before your Wedding day. We offer many different packages to fit your wants and needs. We also host a free consultation ahead of time so that we can sit down with you to develop a customized plan that works for you!
If you'd like more information or to schedule a time to talk in person with our wedding coordinators, email Kelly at Kelly@youreverydayhelper.com or call 319-400-1853.