Did you know that Everyday Helper can also help with your family's pets? We offer pet sitting and pet walking services.  I love providing these services for many reasons!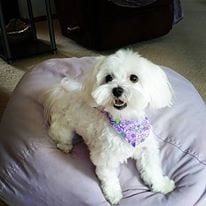 I am a pet lover, and grew up around a variety of pets through the years. I currently have a little teacup Maltese puppy, Sophie. At 4 pounds she's a little ball of energy always on the move playing with her toys. When she runs out of energy, she loves to snuggle. Wherever I go in the house, she follows as my sidekick. I didn't know I could love a pet as much as I love her!
I was given Sophie almost a year ago after being without a pet for several years. I hadn't been planning on getting another pet, but I am so thankful she came into my life. She's as cute as she is ornery and everyday is a new adventure with her!

When I first started Everyday Helper I was surprised with how many people were looking for pet walkers or sitters and I decided to expand my business to provide those services. I currently walk several dogs weekly and pet sit when my clients are on vacation.
I love when I walk in the door and a client's dog runs up to greet me! They are always so excited to get outside for a bit. I get to work with some of the best dogs around and I always look forward to playing with them and walking them.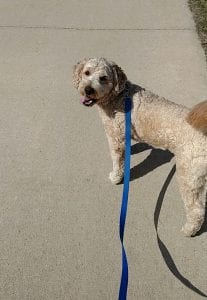 What I have found since starting to pet walk, is that I enjoy the walks just as much, if not more so than the dogs do! No matter how busy my day may be, and no matter what is currently going on, walking dogs is the perfect little break. I get the chance to get a nice walk in, clear my mind, and take a break from the day. And even in the middle of winter, I enjoy it. It may be cold some days, but I love getting some fresh air and just taking in the beauty of the outdoors.  So unless it's -30 degrees, or a blizzard, you will find me outside!
Whether you're stuck working away from your pets for long hours during the day, have limited mobility, going on vacation, or have a very busy schedule, we can check in and help care for your pets! Visit us at www.youreverydayhelper.com for more information!