It's summer which means that lots and lots of people are moving. Whether your lease is up and it's time to move, you just bought a home, or you're just moving to the area, we'd love to help you out.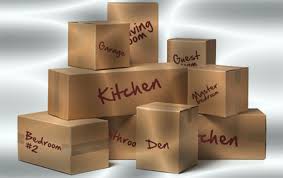 Everyday Helper offers moving assistance services such as packing and organizing, cleaning, de-cluttering, unpacking, property management and more.
In today's blog we're going to share with you some of our teams favorite tips for making the moving process go a bit smoother! Here are 5 top tips and pieces of advice for you:
Do you really need that item? When packing, it's a great idea to evaluate if you really need a belonging or if it's time for it to be recycled to a new home. Taking care of the de-cluttering and organizing before you begin to pack and move will make you feel much more at peace when you begin to unpack in your new space.


---

Take the time to properly pack!!! We see this not being done quite often. When you are packing, organize your items by room or by like items. Neatly pack the boxes and totes so that you can maximize space. And, don't forget to label your boxes so when you begin to unpack you will know what's inside of each box. The word "fragile" comes in hand too!


---

Don't forget to clean!! Whether you're lease is up and you're wanting your full deposit back, or you just sold your home, it's important to give it a thorough and deep cleaning once all of your belongings are out. And, it's also a good idea to spend some time checking the thoroughness of the cleaning of your new space before you move all of your possessions in.


---

Once all of your items are moved into you new space, spend some time moving each box and item to the room that will be its new home. Then it will be easier to begin unpacking box by box and you won't be searching all over the place trying to find a certain box or item.


---

Make it your goal to unpack every box within a week or two of moving. If you've moved before, you may be like the many who are guilty of letting a box or two sit unpacked for months, or even years! Stay focused and get the job done asap!
Have some of your own favorite pieces of advice for those moving? We'd love to hear them! Or, if you'd like us to assist you with the moving process, we'd be happy to help! Happy moving!