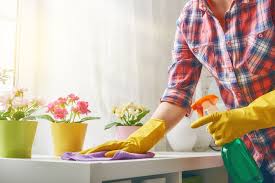 Ahhh, Spring is here once again!! You know what that means- time to pull out that Spring cleaning to-do list you've been working on all winter! At Everyday Helper, we have already begun helping many of our clients with those tasks!
As you begin your Spring cleaning, here is a list of some of our reminders of areas to remember:
Ceiling fans- don't forget to dust the top of fan blades, and clean the light fixtures! Cleaning the allergens off of your fan will help keep your air fresher!
Light fixtures- Yup, time to dig out that ladder and get to work on cleaning all of those light fixtures around your home. You may be surprised how dirty they can get!
Floor vents, wall vents, and ceiling vents- It's a good time to take the covers off of your vents to dust and vacuum out any built up dirt to keep the air in your home as clean as possible
Furnace filter- Have you changed yours recently? If so, great! If not, you may want to consider this your reminder to do so!
Appliances- We're talking a good ol' scrubbing on the inside, outside, around, and behind. That means taking everything and every shelf out of your fridge, pulling appliances out to clean behind and under them, and tackling the buildup inside your oven!
Smoke detectors- consider this your reminder to check on your smoke detectors around your home and change out the batteries!
Carpets- Spring is a great time to hire a carpet cleaning service or to rent a carpet cleaner yourself and tackle the house. We track a lot of sand, salt, and dirt into our homes in the winter months- especially if you have pets or kids!
Blinds and window treatments- Spring is a great time to dust off the faux wood, wood, and mini blinds around your home as well as to gently wipe any cloth shades to remove dust buildup!
Windows- now that the days are longer, you'll want to let more sunlight into your home. Check out your windows- they could probably use a good cleaning inside and out!
Hire Everyday Helper!
Still not feeling the excitement about tackling your Spring cleaning to-do list? We LOVE cleaning and we love helping make our client's lives easier! We'd love the opportunity to help you out as well! Just send us an email at info@youreverydayhelper.com to get the Spring cleaning process started!
Happy Spring Cleaning!