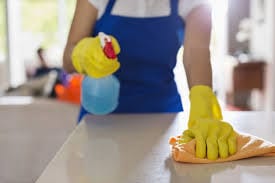 Let's face it, when you're in the middle of moving homes the last thing you want to be doing is deep cleaning. Not only do you need to deep clean the home that you are moving out of, you likely want to do your own cleaning of the home you'll be moving into.
At Everyday Helper we offer a variety of services to help your move go smoothly. Our most popular way we assist is with cleaning. For our move-in and move-out cleanings we bring all of the needed cleaning supplies and tools with us so you don't have to worry about not packing yours. We also clean based off of a 50 point cleaning checklist that helps us to be extra thorough.
Although we typically only operate during our normal business hours of Monday-Friday: 8am-5pm and Saturday: 9am-1pm, we offer exceptions for moving cleans. We understand that you need flexibility in scheduling such services. With notice we are happy to schedule your cleaning on an evening or a weekend.
If you're moving out of a rental, you'll want your full deposit back, and we can help make sure you do. As a former property manager, I know what your landlord is looking for! If you're moving out of a home you just sold, you want to leave it looking its best for the new owners.
No matter the reason for your move, we'd love to help you with the cleaning. In addition, we offer many other services to help you from start to finish with the moving process. Check out our other blogs on our website to learn more!
If you have any questions or would like to get on our schedule send us an email to info@youreverydayhelper.com or call 319-400-1853.