Meet Tami, our newest Everyday Helper who is our Community Relations Manager. Tami brings lots of energy and excitement to the team and we can't wait to see how she helps improve the lives of our clients!
Where are you from, how did you end up in the corridor area?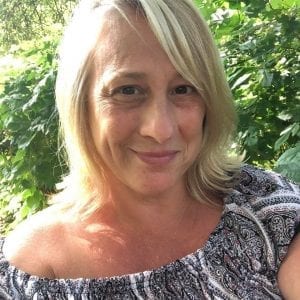 From Cascade, Iowa. Moved to Iowa City  to attend college at the University of Iowa, 1988. Been here ever since!
 If you could visit or live anywhere in the world, where would it be and why?
A cabin in the woods. I love nature! And quiet.
With a nice art studio and horses of my own to ride in the woods.
"Hope is the thing with feathers that perches in the soul"-from the Emily Dickinson poem
painting and hiking
Favorite Weekend Activity:
Cooking meals for family and friends 
on Sunday
Favorite song/group or genre of music:
I enjoy attending local live music shows when I have time-a fan of most music genres.
Fall-for all the colors of the leaves and the change in temperatures
Fourth of July. Very relaxing Summer holiday!
What excites you the most about being a part of Everyday Helper?
I am excited about being a part of the team because it allows me an opportunity to help others. As the Community Relations Manager I can connect people with services that can make their lives run more smoothly!