The Everyday Helper team is growing like crazy this year and we're super excited to welcome our newest helper to the team, Jenny! Jenny will be helping with some business operations as well as getting out and about a bit to help serve our wonderful clients! Here's some questions we asked Jenny so that you can get to know her a bit better!
Where are you from, how did you end up in the corridor area?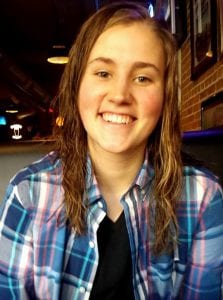 I am from Carroll, Iowa, and I worked my way east across the state by going to UNI in Cedar Falls and then really falling in love with the Iowa City/Coralville area.
If you could visit or live anywhere in the world, where would it be and why?
This is a tough one because I have never been out of the United States, so honestly I would love to travel to any other country to visit. As far as living, I am really happy here, but I also love Colorado where some of my family lives. I have always loved visiting them and spending time outdoors hiking and skiing.
Favorite quote?
"Words are, in my not-so-humble opinion, our most inexhaustible source of magic." -Albus Dumbledore
Any Hobbies?
I love reading, writing, running and spending time outdoors.
Favorite weekend activity?
I love to relax on weekends, so I love to sleep, read and watch Netflix.
What is your favorite song/group, or genre of music?
I will listen to almost any kind of music. I like anything from Harry Chapin to Chance the Rapper. I like the Beatles, Ed Sheeran, James Taylor, Bowling for Soup. My music taste is a little bit all over the place.
What is your favorite season and why?
Fall is my favorite season because that is when football starts. Also, it becomes sweater and apple cider weather.
What is your favorite holiday and why?
My favorite holiday is Christmas. I love all of the traditions my family has surrounding this holiday. We do things like decorate Christmas cookies (really badly), watch the movie Christmas Vacation, drink apple cider and so much more.
What do you enjoy about being on the Everyday Helper team?
I enjoy the fact that this business is so community oriented. We are always helping people in the community and getting to know new people and making peoples' lives easier. It is a company with great values that is really cool to be a part of.