Alright, it's time to recap week 1 of my March monthly challenge! Each month this year I am partaking in a different monthly challenge as a way to challenge myself!
Why am I blogging about my own personal monthly challenges on my Everyday Helper website?
There's a couple of reasons why…..the first being that the blogs I write about my own personal life gain a lot of great feedback and come up in discussion a lot throughout my week as I am out and about. The second reason is that it gives my current clients and potential clients a chance to learn a bit more about myself before we even meet or along the way as we work together. The third reason is that my goal of Everyday Helper is just like the name states, to bring everyday help to the area.  Not just through the services that I myself provide. So I look at blogs like this, if these challenges are benefiting my own life, helping me improve my own life, then why not share the journey with others? Maybe even inspire a few along the way to make changes like I am to their daily lives…..who knows!
March's challenge was created off of the idea to participate in the Pilate's March Matness month. What is March Matness? Each day in March focuses on one of the core Pilate's mat exercises from Joseph Pilate's book "Return to Life Through Contrology". To read more about what this is, check out last week's blog by clicking here.
While March Matness isn't really a challenge, it's more about encouraging participation to practice Pilate's daily and to learn more about each movement, I'm making it a challenge. This month I am making it a daily goal no matter what to get in some sort of Pilate's movement. I'm only one week into the challenge so far, but the results have been astonishing!
In my last blog I talked about how the day before March Matness began, I walked out of a Pilate's private session feeling disappointed in myself. The past few months have been hectic in so many aspects of life and so I let my daily home Pilate's practice slip….more so than I had realized until I walked out of last Monday's session disappointed that exercises that I have performed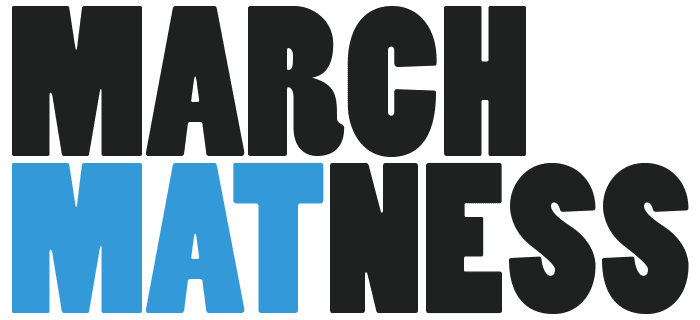 numerous times had seemed so hard that day.
Day 1 of March I found myself going downstairs and dusting off my Pilate's mat and props. It felt so amazing just to be back at it at home! I got so lost in the movements, paying attention to my body, and fine tuning my practice that well over an hour flew by! It was so relaxing and some much needed "me" time. I drowned out the world and was fully present and focused on myself. I couldn't believe how much awareness I was having of my own body…..what areas were tight, what muscles were sore, and what areas I needed to strengthen or stretch more.
While even though my daily home practice had slipped over the past few months, I still get in two private sessions at the studio weekly. And while I love those sessions and learn so much each time, I've realized how important it is to continue my practice daily at home. As with anything in life, if you want to improve, you have to practice. As much as I love working with a very knowledgeable instructor weekly at the studio, I'm learning to love the time when it is just me and my mat at home as well.
The best part about this first "at home session" in quite a while was how incredible I felt after it! I had woken up that day with more aches and pains than usual but I was quickly reminded how much better a little Pilate's movement can make me feel! Physically and mentally I have found a mindful movement practice such as Pilate's to be very therapeutic.
Now that I'm back in the habit of incorporating some daily Pilate's mat work at home, I'm excited to see what else this month has in store! Week 1 has been nothing short of amazing and I am feeling great! This Pilate's mat of mine will not be collecting dust any time soon….
Happy March Matness!!
Kelly