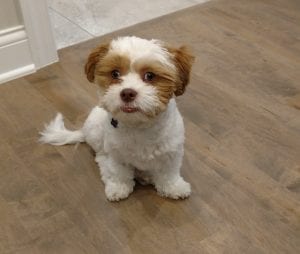 Our first pet of the month for 2018 is Bear! Bear is a puppy who is just a few months old who has found his way to Coralville where he lives with his mom. Bear loves being an only child as that means he gets all of the attention when he's home! He also gets all kinds of attention from those who help care for him like Kelly. He admits that he is pretty spoiled with love and attention and his overflowing supply of treats and doggy toys.
Bear first met Kelly on just his second day in his new home here. Since Bear's mom is a very, very busy professional who works crazy long hours, Bear gets to see Kelly a lot! Bear gets picked up in the mornings and drove to daycare where he spends his days. He loves getting to ride on Kelly's lap and gives her puppy kisses the whole way to daycare. Kelly also comes over and takes Bear on walks and potty breaks as needed too as he's still working on becoming potty trained which means that once in awhile he get so excited to see Kelly that he can't help but pee on her foot!  He also loves making her chase him all over the house before stopping to get his leash on to go outside, it's one of his favorite games and he knows that Kelly must enjoy it because he is good at giving her a cute little innocent look every time she finally catches him!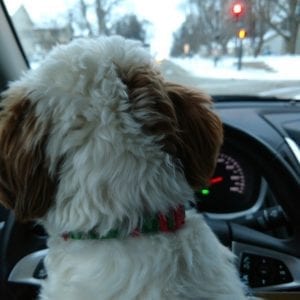 As much as Bear loves getting to spend time with Kelly, he has found his new BFF with Kelly's teacup Maltese, Sophie. Bear loves that he has found a friend who not only has as much energy as he does, but who is also about the same size as him. One time he even got to go over to Kelly and Sophie's house and have a play date and it was the best day ever for him! He can't wait to go back and play with Sophie soon.
Bear is loving it here, and couldn't be happier with his forever home. He isn't quite so sure though about all of this snow we've been getting that is piled up to be much taller then him. He also can't believe how cold it has been lately with all of these negative degree windchill's. Although he may be unsure of the cold weather, he does think that his winter nickname of "Polar Bear" is pretty cute!