As mentioned in our November monthly newsletter, all November and December long we'll be blogging about some of the many ways we can help make the holidays a bit less stressful for you this year!
Up first in this blog series is pet sitting!
As you begin making your holiday travel plans for the next few months, don't forget to schedule your pets care ahead of time too! We are around all holiday season long and are happy to stop by your home even on holidays.
Whether you are just looking for a one time let out for your dog while you're away for the day, or you are needing a week's worth of care for you dog, we are happy to help! We offer competitive rates, we're insured, and we have plenty of references and reviews to share with you from our current clients!
Dogs, cats, puppies, kittens, birds, fish, turtles, hamsters, guinea pigs, chickens and more….we  have helped care for them all and are happy to help care for yours as well! Yes, even chickens we can help with! For more on our farm pet sitting options click here!
And, because you've taken the time to check out this blog, we have a special offer for you!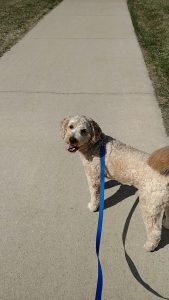 Schedule your November and December pet care visits before Saturday November 19th and we'll give you 1 free visit! Share this blog, mention us to your co-workers, family and friends and when those you refer book a pet sitting service with us, we'll give you 2 free visits!
Stay tuned as we'll be announcing special offers on all of our services over the next two months. And don't forget to keep checking out our Wednesday blogs about the ways we can help make the holidays less stressful this year!
Kelly