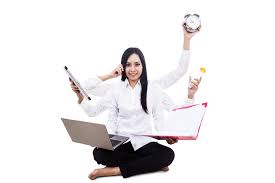 It's been a busy few months for one of my clients. Back in July we began working together as I provided assistance for him during a transition of moving houses. Right after the move, his office manager (and only employee) left leaving him to be a "one man show" at his office. He's a chiropractor with his own practice, which is very busy! Quickly becoming overwhelmed with trying to keep up with all of the tasks that come with running an office as well as seeing a packed schedule of patients each day, he turned to me for help.  Midway through September he made the decision that after 16 years in his current location, he would be ending his lease at the end of the month and merging with another practice. With only 2 weeks to see the move through from start to finish, my client once again turned to me to help make the transition easier as he had a full patient schedule to see throughout the process!
The good news is that Everyday Helper has been able to help every step of the way. When most people think of the services we offer, they don't think of the many ways in which we can also help other businesses in the area. Whether you're a small business without much backup or a large business always busy, we offer a variety of ways to help you do the everyday tasks so that you have more time to do the work that you love doing! And don't forget, the holiday season is fast approaching once again! Over the month of October, each Wednesday I'll be blogging more about my client's story as well as about some of the different ways we can help you out at work!
Here's the blogs coming your way each Wednesday this month:
Oct 12th: How We Can Help At Work: Need a fill in employee?
Oct 19th: How We Can Help At Work: Errands, meetings, events, and more!
Oct 26th: How We Can Help At Work: Organizing, moving, and decorating!
Interested in knowing more already?! I'd love to talk with you more! You can reach me at 319-400-1853.