In a typical week at Everyday Helper, we assist many clients with their pets! We do lots of dog walking and bathroom breaks for dogs that are home alone for long periods of time and we do lots of pet sitting visits for animals of all kinds. We love getting to spend so much time with pets!
While we assist clients with a variety of work schedules from set shift times, to varying shift times, to overnight hours, and to day time hours, we assist many! Lots of our clients are medical professionals who not only work long shifts, but are often on call and may need help with their pets on a short notice!
This past week I was doing a meet and greet with a new client who is interested in one of our common pet care services, mid day bathroom breaks and a walk for her dogs on a set Monday-Friday schedule. As we were talking, she asked me how we schedule pets and then stick to the schedule and that is a good question!
Our dog walking and pet sitting visits are 30 minutes long. During that time, we assist however you would like us to. We can walk your dogs, play with your pets, feed them, give them medicine, clean up their litter boxes, and so forth.  Knowing that each visit is 30 minutes, we then look at where our clients are located and figure out our estimated drive time to get to and from.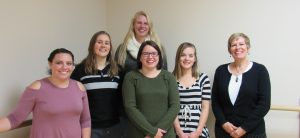 There are 6 of us on the team, and each of us is able to cover a different area so that we are able to reach all of our scheduled clients in an efficient and effective manner. Our standard lunchtime visits are scheduled between 11am-2pm Monday-Friday. Of course we are happy to do our best to schedule your visit as close to when you'd like it, but usually request for at least an hour of flexibility on either side of the ideal time of the visit. That allows us the flexibility needed as our day-to-day and week-to-week schedules often vary.
When you are trusting us with your pet care needs, especially when it comes to our most common request of Monday-Friday mid day bathroom breaks, you can rest assured that we will show up and be consistent. We take the time to look at all of our schedules to figure out which on of us would be the best fit for providing a consistent visit time for your pets!
If you'd like to chat more about our availability and how we could help with your pet care needs, we'd love to chat! Please call at 319-400-1853 or send Kelly an email at Kelly@youreverydayhelper.com.