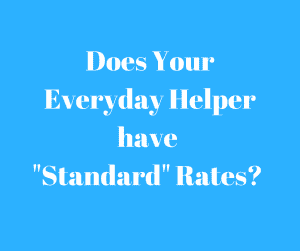 If you've visited our website looking for our rates for our services, you've noticed that they aren't listed. When you see that they aren't listed, please don't assume that we are outrageously expensive! That is not the case at all!! We don't list our rates online because our services are not a "one size fits all" type. All of our services are completely customizable and no two clients of ours are the same! We absolutely love this about our business and our clients do too!
So how do we then determine our rates? Here's how:
Location- The biggest factor that determines our rates is where you are located at. We operate out of Coralville and serve all communities within 25 miles from here. But with that said, the farther we have to commute, the more that can effect the prices. Which leads into our next factor….
Expenses-When determining our costs, we have to look at the expenses involved to us as a business as well in order to serve you. This includes gas/mileage, drive time, service time, insurance, etc. For example, if we spend 15 minutes driving to your place for a pet care visit that is our standard time of 30 minutes long and then have to commute back home, that's an hour of our time spent serving you. On top of that hour of our time, we have to consider the mileage, vehicle wear and tear, the price of gas, and so forth. We aim to keep our rates low, but we have to always factor in the operating costs as well.
Service-Another factor that determines our rates is how we will be serving you. Of course our rate for walking your dog will be less than cleaning your home for an hour, but more specifically since our services are custom to your wants and needs we have to look at the whole picture. For example, if you want an hour of basic housecleaning help, our rates will be lower than if you want an hour of super deep house cleaning help such as say pulling out all of the kitchen appliances and scrubbing them down. In this example the time frame is still the same but we have to consider the intensity of the labor needed to help.
As you can see, with the services that we provide it's not as simple as placing one price point with each of the services that we provide. The reason that you won't find our prices listed on our website is not because they will be outrageously expensive, it's because we need to gather more information such as the service your interested in, where you are located, how frequently you would like our help, and so forth to give you a price!
When it comes to choosing a service that is a good fit for you and your family, you are likely to find multiple options especially with today's technology advances. One of the important things to always consider though is that you get what you pay for. Sure, you can pay minimum wage for someone to help walk your dog during the day, but are they reliable? Are they trustworthy? Are they insured and bonded? Do they have references? Do they offer you a background check? It's always good to gather as much information ahead of time as you can when trusting someone with your family and your home. At Everyday Helper we're able to help you rest assured to all of the questions above. We're insured and bonded, we are highly recommended, we have been in business for over 3 years, we are reliable and trustworthy, we provide references and background checks, and most of all; we'd love the chance to help serve you and your family!
If you'd like to know more about any of our services or request a quote, call 319-400-1853 or e-mail Kelly at Kelly@youreverydayhelper.com