The holidays are upon us! Halloween celebrations have come and gone, Thanksgiving is fast approaching and Christmas decorations have been in stores for months already.
I don't know about you, but fall is my favorite season. There is so much to love about it like football games, hot apple cider, carving pumpkins and coming together with family to celebrate Thanksgiving.
Thanksgiving means something different for each one of us. For some it means watching football all day, for others it means sampling your aunt's best pies, but for a lot of us, it means that family gathers together.
If you have ever hosted Thanksgiving, you know that a lot of preparation goes into cleaning the house, cooking the food and making sure everything is ready for when your family and friends arrive. At Everyday Helper, we understand the holidays can get crazy, so that is why we want to lend you a helping hand this holiday season.
During November, we want to give you 20% off a house cleaning or a yard care service. We hope this discount will help you prepare for your family gatherings this holiday season. Take a look at the details of the discounted services below!
House Cleaning
When family and friends are visiting, we want our homes to be in tip-top shape. At Everyday Helper, we can provide you with a regular cleaning service or we can provide you with a one-time cleaning service right before your family and friends arrive at your home for the holidays!
With our house cleaning service, you provide the supplies and we provide the clean. We can set up a time that works best for you and we will go to work. Some of the options for house cleaning include:
Organization
Basic cleaning
Deep cleaning
Laundry
Dishes
And more!
The best part about our house cleaning service is we customize it entirely to your needs, so just let us know what you are looking for, and we will get your home exactly the way you want it for the holidays.
Yard Care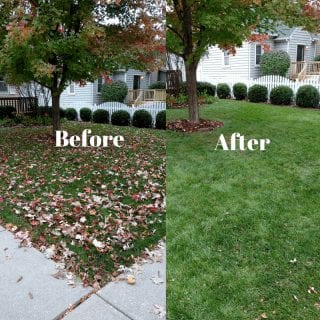 Fall is a great season for sweaters and football games, but it can be a pain to keep up with yard work in the fall.
Whether your yard is full of leaves or walnuts from the neighbor's tree, fall means that your yard may be messy. Also, oftentimes you still need to mow the lawn, but most daylight hours are spent working, and the weekends are for relaxing not for working.
That is where we come in. At Everyday Helper, we can come and work on your yard while you're at work and have it done and looking great in no time! Our yard care services include:
Flower bed cleanup
Shrub trimming
Planting
Mulching
Mowing
Raking
Gardening
It seems like there is always extra work to do in and around the house during the holiday season. So, share this blog with family and friends and mention this blog before your next house cleaning or yard care service and you will get the 20% off discount!
Contact Kelly at Kelly@youreverydayhelper.com or call 319-400-1853 to save 20% on your house cleaning or yard care today.