I started working at Everyday Helper just a few months ago. I moved down to North Liberty and I was excited to get a little more involved in the community in order to get to know it better. I met with Kelly and started working in October. Since then, I have walked dogs, raked yards, cleaned homes, and even helped decorate for Christmas.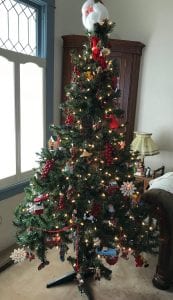 In these few months I have worked at Everyday Helper, I have truly grown to appreciate how unique and awesome it is to have people in the community trust us with their homes, pets and other aspects of their lives. Also, I have had fun lending a helping hand! I'm glad I found this business and I'm glad that this business is a part of the community.
At Everyday Helper, we are in the business of making peoples' lives easier and more enjoyable, and that is a great business to be in. Recently, I had the opportunity to help a client decorate for Christmas. This decorating was too much for her to do all by herself, but she wanted to enjoy the Christmas ornaments and decorations she has been collecting for years. I enjoyed helping her put up the decorations and hear about Christmases past. And, I think the final product turned out pretty good!
So, here's a big thank you from all of us at Everyday Helper for letting us help you. We have enjoyed the process of getting to know clients and helping them out with whatever they need.
This holiday season, we wanted to say thank you and happy holidays. We are grateful for all of our clients, we hope you have a wonderful and safe holiday season, and we hope to see a lot of you next year!