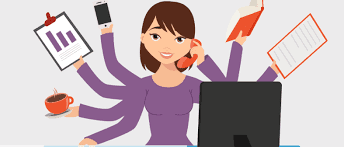 Personal Assistance:
One of the services we offer is referred to as our Personal Assistance service. We often receive questions asking what exactly we can help with through this service so today's blog is going to list out some of the many ways we can help!
Laundry:
One of the most popular ways we assist with this service is by helping with your laundry needs. This can include us washing clothes, ironing clothes, folding clothes, and even putting clothes away. We can also take care of transporting your items to and from the dry cleaners.
Misc. Household Chores
We cover a lot of areas on our 50 point cleaning checklist while cleaning your home, but we also offer assistance with other tasks not mentioned on it. Whether you could use help keeping up with the piles of dishes, taking the trash and recycling out, picking up the toys in the playroom, or whatever else comes to mind- we can take care of it for you.
Errand Running:
Do you have a never ending to-do list full of errands needing ran? If you struggle to find the time to run your errands, or if you prefer to not have them to take care of, we can assist. We'll run to the post office, make your in-store returns, pick up items at the grocery or department store, or whatever else you need help with!
Appointment Scheduling & Management
If you need help managing the family calendar, we can help. We can schedule doctor appointments, car repairs, home repairs and more. We can even help by transporting your family members to their medical appointments, taking your car to the shop for an oil change, taking your pet to the vet, and by waiting for the repairman or delivery to be made.
As always if you're looking for personal assistance with something that we didn't mention here, send us a message and we'll see if we can be of assistance! You can fill out our contact us form on our website, send an email to info@youreverydayhelper.com or call/text 319-400-1853. You can also view all of our services here.