There's one question in particular I've been asked a lot lately and that is this, "Do you walk dogs in the winter too?" And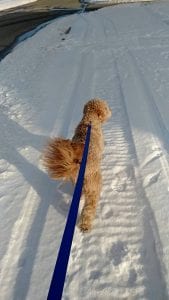 here's my answer: Yes!!!
Of course I walk dogs all winter long too! Dogs need fresh air daily, despite how cold it is! Having grown up in Iowa and loving the outdoors year round, I'm not afraid of a little cold! While some days our walks may be a bit shorter due to the cold, I'm still happy to come walk your dogs!
There are however a few instances in which we will not walk dogs! If it is below zero degrees outside or the wind chill is below zero, we will have to cancel. If there is a winter storm going on, we will have to cancel. And if the roads are unsafe to travel on, or the sidewalks are too icy, we will have to cancel.
I understand how unpredictable the Iowa weather can be and so when it comes to winter weather, I make exceptions to our cancellation policy! If you need to cancel pet walking or any of our services for that matter because of the weather on short notice, you will not be charged. And if we feel the need to cancel on short notice because of inclement weather, we ill notify you as soon as possible!
We aim to be Your Everyday Helper, safety and health must always come first!