I recently moved and let me tell you….I have a lot of stuff. More than a lot. Too much. As I was packing, de-cluttering, organizing, etc, I was excited to incorporate the tips and tricks that my team brings to the table, as well as the ones I learn from reading! I love reading the latest tips and trips for de-cluttering and organizing and I love helping my clients through the process of having less stuff and more happiness.
Clearly though, I have not been practicing what I preach. To be honest, I have been working a lot this year growing the business and I haven't taken much time for myself. As I was packing and moving, I realized how off track I had fallen, and knew right then and there that it was time to change things around.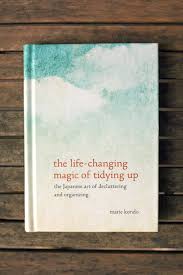 Earlier this year I read the book "The Life Changing Magic of Tidying Up." It's been a pretty popular book this year and after hearing so much about it I decided to give it a read myself. I can tell you that I've read a lot of articles and a lot of books on de-cluttering and finding organization in your life but this book is one of my favorites so far.
I took what I had gathered from this book and combined it with what I had already known and went to work on my own space. I started room by room and thoroughly went through every inch of the room pulling everything out and deciding if I really needed it or not.
When it came to my closets…yes, I have multiple, they took a little longer. Like many others I like to hold on to items even if I haven't worn them in years….you never know, I might wear it again someday, right? Wrong. For whatever reason, clothes are the hardest things for me to get rid off. I have a pretty photographic memory and I can usually recall quite a few places and memories that I wore each piece of clothing in. But, wanting to re-create balance and organization in my space, I knew that I needed to downsize. The result was 4 full boxes to donate….that felt pretty good!
Besides dealing with my closets I'd say that my office was the next hardest project to tackle. Like I said, the business and life keeps me pretty busy and the stacks of papers etc seem to pile up no matter how often I clear off my desk. I had to get a little creative and do a little extra research and shopping to come up with some functional organization methods that I liked and would be willing to stick to in order to keep the office organized and keep my stress down! This trial and error experiment is still ongoing, but progress is being made!
I love these little moments in life that bring clarity to our own lives. It was a big shock to me when I began realizing how much stuff I had and how much I preach about organization and de-cluttering. At the end of the day though, no one is perfect and life is all about learning and striving for growth!
Now, I realize that most of our clients are very busy people with high demanding jobs, growing families, and countless other things on their plates. That means that you probably don't have a lot of time to sit around reading up on tips and trips to help you de-clutter and organize your house and your life. And I also realize that not everyone enjoys this process….even though they admit it would add value to their home and life.
The good news for you is that I love reading and learning about this stuff! And so do all of us at Everyday Helper! We love getting to help our clients through the process of creating balance and organization in their homes and lives and we'd love the chance to help walk you through the process as well. Wouldn't it be great to come home after a long day at work to a house that truly makes you smile and allows you to relax?