While it is known that we frequently clean homes based off of our 50 point cleaning checklist, we also love getting to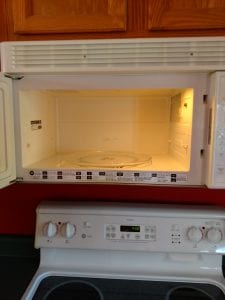 dig a little deeper. We love tackling those projects on your to-do list that you just don't seem to have the time or the motivation to take care of!
This past week Judy did some amazing work at a home in the area. This property was getting ready to be listed for sale and it was in need of a deep cleaning! One of the areas that needed the most help was the kitchen, more specifically the kitchen appliances.
We were contacted by a local realtor to come in and help get this property cleaned up as it had been neglected by the previous owners for quite some time and needed a thorough deep cleaning. Our team originally went in and did a deep cleaning of the home but held off on cleaning the kitchen appliances as it wasn't sure whether or not they could be cleaned up enough or would have to be replaced.
And then a miracle happened…Judy went in and went to work on tackling the refrigerator/freezer, the stove, and the microwave. The pictures of her amazing work don't do it justice. We weren't too confident that they could be cleaned up enough as they were pretty disgusting and abused. But, Judy saved the day!
It was a long and dirty process, but the kitchen looks so amazing now! The refrigerator was by far the worst and now it looks the best! It is so clean that it even has that new appliance shine to it! If you would have seen the appliances before and after in person, you probably wouldn't even think they were the same ones.
With the holiday's approaching, family get-togethers, holiday parties etc coming up, it's time to get your home looking it's best! Whether we could help use our 50 point cleaning checklist to get your home cleaned from top to bottom or concentrate on specific projects such as kitchen appliances, we'd love to help!