Does your work space look like the image on the left or the right? If It looks like the image on the left, I'm guessing you'd like it to look like the image on the right!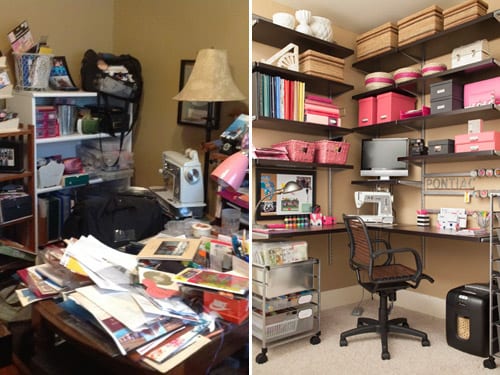 Let's face it…..with so much to do there just isn't always enough time to get around to organizing and de-cluttering your home or office. Often times, those tasks get shuffled from one "to-do" list to the next while the piles needing organized accumulate more and more.  Have you ever considered having someone help you?
At Everyday Helper we offer services customizable to your needs and wants to help you de-clutter your home or office and we'll help you become more organized as well!   We understand that sometimes you just need that extra push and someone to help you with the process once and for all. And, there are so many benefits to being more organized and uncluttered! Less stress, more time, and a higher productivity rate are just a few of the many benefits!
There is also no better way to begin your day then by walking around your home or into your office and being happy with your space instead of being stressed at the sight of your surroundings!
Whether you need help tossing all of your unnecessary or unwanted items, or help with setting up a new organizational system, we can help!
Call us at 319-400-1853, send us an email: kelly@youreverydayhelper.com or visit us online at www.youreverydayhelper.com to set up your free consultation today!